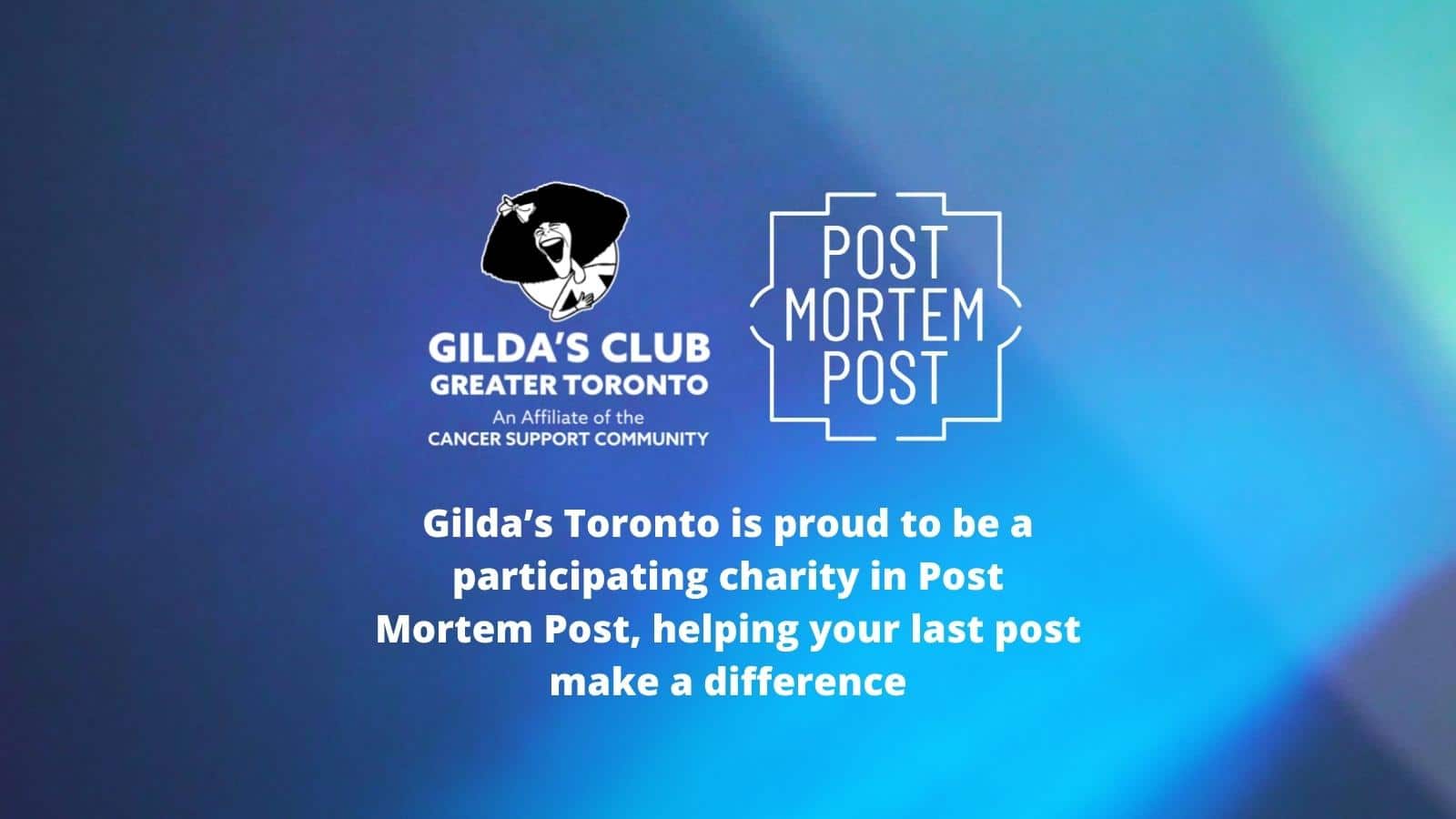 Juniper Park\Tbwa Partners With Gilda's Toronto For Post Mortem Post

The initiative encourages people on Facebook to make a difference with their final post
FOR IMMEDIATE RELEASE
Toronto; June 17, 2022 – Today, Juniper Park\TBWA, in partnership with Gilda's Toronto and with support from Meta, celebrate the launch of Post Mortem Post. The initiative, powered by Juniper Park\TBWA's precision marketing practice, Scalpel, provides people on Facebook with the tools to pre-plan the final post on their timeline, directing their loved ones to donate to a charity of their choice upon the user's death.
Data gathered by TBWA's cultural intelligence unit, Backslash, indicates that an aging population looking to relieve the dread of death is forcing the end-of-life industry to change how it addresses the topic. This has brought forward the death wellness movement – from death doulas normalizing mortality talk, to biodegradable burial pods making death more sustainable. With this in mind, Juniper Park\TBWA's Scalpel worked on a data-driven initiative that connected Backslash's findings to a client solution. The project's AI-powered conversational experience was developed with support from Master of Code Global.
The idea started by using one of the most valuable sources of first party data, a user's own social following, to avoid the usual unfortunate randomness of a user's final post. The concept of Post Mortem Post allows users to decide to do something meaningful with their final post on Facebook as they would usually do by signing up to donate their organs in real life.
With Post Mortem Post, the user can select a close contact to provide one final post on their timeline directing their social following to a charitable organization of their choice. The agency worked with Gilda's Toronto, a charity that supports those impacted by cancer, as the first organization to participate in the initiative.
"We are honoured to be chosen as the charity of choice by Juniper Park\TBWA for this initiative on Facebook," said Elizabeth Dalgleish, Executive Director of Gilda's Toronto. "A new social tool like Post Mortem Post will help people build their digital legacy with the ability to direct tribute gifts in their memory to organizations like Gilda's Toronto."
Setting up a Post Mortem Post can be done in a few steps: on the Post Mortem Post Facebook page, users register with a chatbot. They are given options to select a charity, draft a post and grant an appointed loved one access to their Facebook account, providing them with everything they need to fulfill the user's wishes. Upon the user's death, their legacy contact retrieves the last post in their inbox, visits the Post Mortem Post Facebook page to learn how to memorialize an account, and pins the Post Mortem Post to their wall.
"A lot of people don't have a plan for their Facebook feed after their death, and Post Mortem Post gives them an opportunity to create a lasting legacy through one final, meaningful request to their friends and family," said Liam Steuart, Managing Director Precision Marketing at Juniper Park\TBWA. "We hope this initiative gives people comfort that instead of leaving their last post to chance, they can do something good, even after they've moved on."
The campaign will launch across online digital and social channels and will be in market June 17th until August 1st
–30–
Credits:
Juniper Park\TBWA
Graham Lang – Chief Creative Officer 
Jenny Glover – Chief Creative Officer
Neil Walker-Wells – Group Creative Director 
Liam Steuart – Managing Director 
Nathalie Cusson, Creative Director, Design 
Mario Maiato – Associate Creative Director
Craig Burt – Associate Creative Director
Sam Bullis – Designer 
Nancy Rak-Swales – Director, Integrated Production
Olivia Hannigan – Junior Producer
Nathalie Trivino – Shooter/Editor
Karina Simone – Content producer
Kristine Lippett – Content producer
Walter Medeiros – Studio Director
Jodi Harvey – Project Manager
Mathieu Khaled – Group Account Director
Gilda's Toronto
Elizabeth Dalgleish – Executive Director
Katie Jacobs – Director, Clinical Programs
Neil Wiernik – Director, Marketing and Communications
Meta
Neil Mohan ­– Canadian Creative Partnerships Lead
Master of Code
Amanda Stevens – Director of Conversation Design
Daria Vynohradina – Chatbot Project Manager
About Juniper Park\TBWA
Juniper Park\TBWA (juniperparktbwa.com) is The Disruption® Company: the cultural engine for 21st century business. A global, award-winning agency located in Toronto, Juniper Park\TBWA uses Disruption® methodologies to develop business-changing ideas for brands. The 130+ team of world-class creators and thinkers serves clients across North America, including CIBC, Nissan, PepsiCo, GoDaddy, among others. It is part of TBWA Worldwide (tbwa.com), named Agency of the Year and Grand Prix winner at the 2021 Effie Awards, and one of the World's Most Innovative Companies by Fast Company in 2019, 2020, and 2021, and included on Ad Age's Agency A-List in both 2019 and 2020. Follow us on Instagram, LinkedIn, and Twitter, or like us on Facebook for the latest updates from the Park.
About Scalpel
Scalpel is a precision marketing practice created to help 21st century brands own a greater slice of the future. Created by global, award-winning agency, Juniper Park\TBWA, Scalpel and its team of data scientists, creative technologists, and analytical strategists sharpen mass marketing into precision marketing using data-led disruptive ideation. Designed to guide a new type of marketing workstream, Scalpel utilizes an end-to-end process powered by data and proprietary tools at every stage.
About Gilda's Toronto
Founded in 2001, Gilda's Toronto is a charity that ensures people experiencing cancer-related stress are empowered by knowledge, strengthened by action, and sustained by community. 600+ programs including support groups, healthy lifestyle programs, education workshops, bereavement support, and social events, are provided annually to adults, children, and families by licensed mental health professionals and skilled subject experts.