Connecting families impacted by cancer
Hi, my name is Tory, and I run the family programming at Gilda's Toronto. I am excited to be part of our first in-person camp in three years, for families with children under 18, in May 2023. Camp Maple Leaf in the Kawarthas is our destination, and we aim to host 22 families who have participated in Gilda's Toronto support groups.
The best part is connecting families with other families going through a similar experience in their cancer journey. It lets them know they're not alone and can face the experience together as a community.

I often hear from families, "I don't know any other families that are going through this. I don't have anyone I can turn to for support for my children, whether grieving or navigating a cancer diagnosis."
Children often don't know other kids who've had a parent who died of anything. They might feel like they can't talk about it with friends. That is so isolating. Teens say they have good friends at school, but they don't know what it's like to have a parent with cancer. The children must know they're not the only ones, and parents must help a child understand that.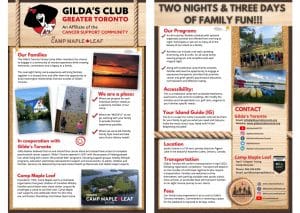 Gilda's Toronto Family Camp will have therapeutic elements focusing on psychosocial grief education. It might be playing a giant "feelings" Jenga game. A grieving family may make memory stones together. They can reflect on how to keep a person in their heart. There's also an evening lantern ceremony to remember and honour their person.
A beautiful, concrete way to create connections is with a community weave. You start with a large wooden frame and lay out strips of fabric of various colours and textures. Everyone chooses a fabric that speaks to them, and we make a weave.
The Family Camp program will be flexible with optional activities. If the parents want to spend the time together as a family, they can, or if they wish respite for an hour, and a mom wants to go for a walk with another mom, then the child can do an activity.
We've programmed family nights quarterly throughout the year to plant the seeds of relationships and the community. This camp is our final community experience. Families won't necessarily know each other or have met. They need to have the courage and the flexibility to show up for a weekend with an open mind. It's not a five-star resort; it's one big building with rooms. It is a private space to be together as a family and within the community for the weekend. There will be rock wall climbing, canoeing, fishing and campfires.
 I think it's an opportunity to provide a sense of normalcy for children when things are chaotic. There are so many unknowns and grief, but they need an environment where it's okay to grieve and talk about their person who's died, to honour those with us and create a legacy.



All the normalcy of their life has gone. With the teens, we want to foster healthy coping strategies and build on relationships, so they'll want to hang out together on the weekend.
I like the imagery of a backpack because grief can feel unbearable. You never move away from your grief. You will always carry that grief, but somehow it does become lighter. And you learn to live with it.
I feel it's essential for them to access resources internally from Gilda's Toronto and talk to other families about what has worked for them. Our Family Camp is an opportunity to build a community outside Gilda's Toronto. They can make meaningful connections while also engaging in a fun tradition as a family.
To learn more, visit our

family camp page

or find out about all our family and child-oriented support services by visiting our

programs page

.