I am so grateful that I received the support I needed from Gilda's Toronto – it ultimately saved my life

My name is Antonietta Gutierrez. When I was 12, my dad died of stage 4 non-small cell lung cancer. While he suffered for nearly three years, my dad Jose lived every one of those days with immense courage and resilience.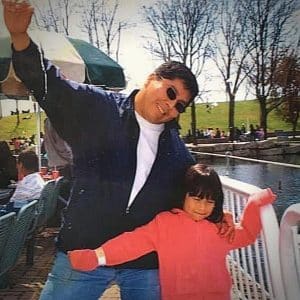 My dad taught me how to dream. He came to Canada from El Salvador and first worked in a factory making paper coffee cups to put himself through college and went on to have a successful career as a mechanical engineer. He taught me how important it was to value community and never give up on yourself.
Last year (2022) I was honoured to receive the Lorna Rosenstein Youth Volunteer Leadership Award from Gilda's Toronto.
Lorna Rosenstein was one of the founders of Gilda's Toronto and a passionate believer in members helping members. This award is given to someone like me who has shown leadership in their communities.

As the recipient of the Lorna Rosenstein Youth Volunteer Leadership Award, I was matched with a mentor who helped me navigate my grief, Gilda's Toronto's own Katie Jacobs, Director of Clinical Programs. We both followed the same higher education path and even attended the same universities! In our time together, Katie talked about her 15 years as a social worker, sharing stories of her challenges and successes. She helped me to see that I can become, as she so aptly put it, a beacon of hope in the lives of others.


My journey at Gilda's Toronto began as a member of the teen talk program. I found an instant connection and comfort with peers my age who were experiencing similar feelings from the death of someone with cancer or living with someone with cancer.
Despite the adversity we were all facing at such a young age, this unique community at Gilda's Toronto allowed me to heal, find hope for my future and realize I didn't need to carry all the guilt and shame that came with my dad's diagnosis and death.
My dad was painfully and quickly ripped from my life – I didn't have a chance to be a kid. I struggled throughout my teen years with depression, anxiety and suicidal thoughts. However, these communities of support transformed my life. I went from feeling isolated to realizing I wasn't alone in my grief, which helped me to better express my feelings in healthy ways. This ultimately sparked a passion and purpose to advocate for better mental health support and ensure that no person has to go through grief alone.
I am studying social work at Toronto Metropolitan University and plan to be a palliative, hospice and oncology social worker. Most recently, I was privileged to support Gilda's Toronto members at the first Family Camp in partnership with Camp Maple Leaf. I connected with caregivers, children and youth affected by cancer by providing therapeutic support. Every family, volunteer and staff had a unique story and collectively, our shared experiences shaped a newfound community. In our closing circle, I shared that my weekend takeaway was, "we are more than cancer." This is a part of honouring and remembering my dad's remarkable life.


Will you support the Lorna Rosenstein Legacy Fund, help provide programs that support the area of greatest need at Gilda's Toronto and recognize a young volunteer impacted by cancer? I am thrilled to tell you that Gilda's Toronto Board of Directors will match all donations until June 30, 2023, to the Lorna Rosenstein Legacy Fund up to $30,000. Donate today

 
Thank you for considering supporting Gilda's Toronto's work so that other young people like me affected by cancer can thrive, become leaders in their communities and help others through volunteerism.
Antonietta Gutierrez
Gilda's Toronto Teen Talk Program member 2018-2020
PS If you missed last year's award presentation, you can watch it below.