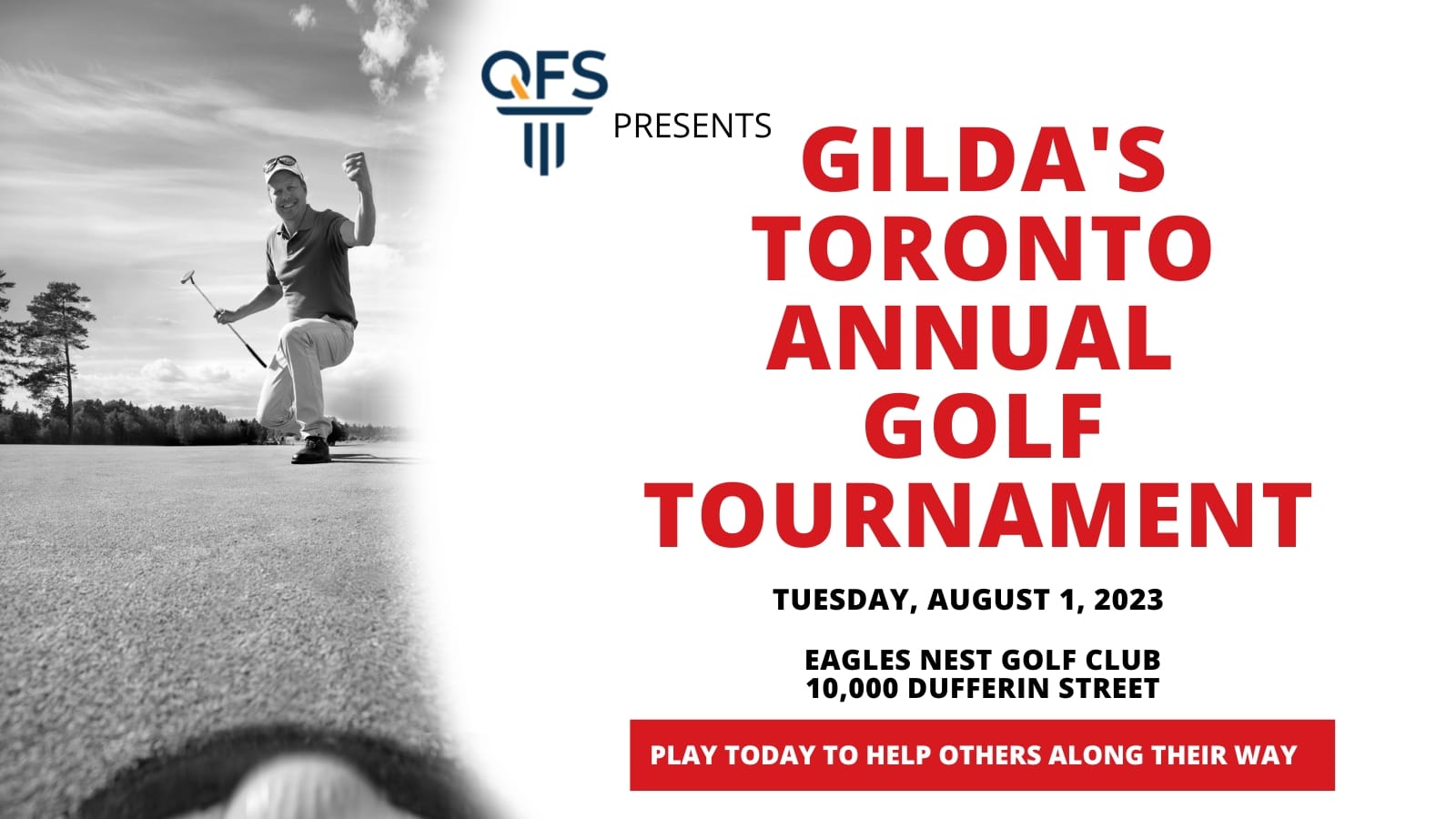 Join us for the 2023 edition of the
Gilda's Toronto Annual Golf Tournament presented by QFS,
on Tuesday, August 1, 2023, at Eagles Nest Golf Club.
Don't delay! Confirm your 2023 sponsorship or register today, single golfers, foursomes, or enjoy the evening portion of our event!
Join us on Tuesday, August 1, 2023, at the Eagles Nest Golf Club for a day of golf, an evening of dinner, entertainment and auction. There are many golfing options for individuals or groups, or you can come for dinner and the show. More information and registration options are below.

Following a spectacular day on the golf course, we have a wonderful evening planned for you, including cocktails, a contemporary gourmet dining experience and an exciting live auction, all hosted by the brilliant and hilarious Daniel Stolfi.
For further inquiries or help registering, contact, golf@gildasclubtoronto.org
About the Golf Tournament
The Gilda's Toronto Golf Tournament is an annual event held by Gilda's Toronto in support of the meaningful cancer-support programs provided free of charge to those experiencing cancer-related stress.
Sponsor the Tournament
Confirm your sponsorship today! Your sponsorship is not only a great way to gain visibility for your company but also a way to reward staff or have a great day with friends. To learn more, download the sponsorship package.
Register Today
Early Bird Special: Register by May 15, 2023
foursome of golf: $1,500 per registration.
After May 15, 2023
Single golfers: $400 per registration Foursome of golf: $1,600 per registration
All golf registrations include a boxed lunch and an evening of cocktails, dinner, show and auction.
Not a golfer?
Enjoy the evening portion of our event for only $150 per person.
A Special Thank You to all our
2023 Gilda's Toronto Annual Golf Tournament Sponsors
QFS – Qualified Financial Services
Presenting Sponsor
Empire Life Insurance Company
Dinner Sponsor
CS-1 Transportation Inc.
Beverage/Snack Cart Sponsor
Joanne and Gary Reamey
Auction Sponsor
iA Financial Group
Cocktail Sponsor
Delta Air Lines
Official Airline Sponsor
2023 Hole and In-Kind Sponsors



Hole Sponsors
BMO Insurance
BMO Private Wealth
Dave Donegan & Mitchell Fong
McGovern Hurley
Manulife
Pace Law
QFS
RBC Insurance
RDA Insurance – John Scida
Rob Granatstein & Ronda Bessner
TD
Vestacon
Wozniak Law
In-Kind Sponsors
Gelato Fresco
Genumark
Lindt
Marketing KItchen
Tracer Golf